Fennel and Anise make these cookies ideal to eat after a big meal.  Their snowy look makes them perfect for winter baking.

Ingredients
Mix 1 and 1/2 cups of sugar with
4 eggs and beat well
Add 2 tsp anise extract to mixture and blend
Sift 3 cups of flour
2 tsp baking powder
1/2 teaspoon salt
Mix together and then cover and refrigerate for 3 hours.
Roll a Tablespoon of dough in your hand until round.
Drop it in powdered sugar (can add powdered or crushed fennel or anise seed) and put on greased cookie sheet.  Make sure you add a sufficient amount.  Keep adding until you really get a punch.
Bake at 350F / 180 C for 10-12 minutes.
Notes on Fennel and Anise seed
I have read full blown arguments online about substituting fennel seed for anise seed and vice versa.  After doing a taste test, I can say that I like a mix.  Each one has its own beauty – and if you can't see it, try a taste test with the spice powder mixed with powdered sugar.  The testers I queried felt both were tasty in the sugary context.
 
Instructions
I like to have my directions mixed in with the ingredients. But I will write them here, so if you prefer reading directions, you will have them.
Beat the eggs and sugar in a bowl and add extract. Sift the flour, baking powder, and salt together and add to the egg-sugar mixture. Mix well, and refrigerate for at least 3 hours. Take about a tablespoon of dough and roll it into a ball, dropping it into a bowl of powdered sugar with crushed fennel or anise seeds to coat them before you bake them. These cookies are made in the usual way on a buttered cookie sheet or on parchment paper on a cookie sheet for baking. Bake at 350 F (180 C) for 10-12 minutes.
For more information on these spices, please visit
Fennel is used primarily as a digestive aid, but it also has quite a few other healing properties. Go to this link to see the full spectrum of its curative properties.
Anise is a beautiful plant
Perhaps you might like to plant some anise in the garden next summer?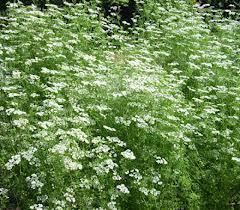 Planting spices is fun. You could plant some anise in the summer and save the seeds to use for your Christmas cookies.
I planted soybeans in the garden with my daughters one summer, and then we harvested the beans and made them into tofu. It was a "start to finish" sort of experiment! The tofu was very special with a very fresh flavor.
I think next year I will try planting anise. It is an annual plant, so you have to replant it every year, and it needs full sun and a kind environment where there is not too much wind because the plants are quite tender when they are first growing.
The anise plant photo is from the kind folks at www.mainefoodandfarms.com