Heat oven to 350 degrees.  Prepare a cookie sheet, best with parchment.
Ingredients:
40 whole almonds for the top of the cookies
** instructions for blanching below
2.5 cups flour
1 tsp baking powder
1/4 tsp salt
1 cup sugar
2 cups blanched almonds, finely ground
3/4 cup butter (170 grams)
2 eggs, beaten
2 tsp almond extract
a little sesame oil – best if fresh – up to 1 tablespoon
If you have the almonds, roast them in a preheated 325 degrees F over for 10-15 minutes.  Keep an eye on them so they don't burn.  Do not do anything to them – no oil, salt, etc.
Sift the flour, baking powder, salt and sugar into a bowl.  Mix in the ground almond flour and then work in the butter and sesame seed oil with your hands or pastry blender.
Add beaten egg and almond extract.
Use tablespoon sized pieces of dough and shape into balls, then flatten and tuck in an almond.
Heat the oven to 350, put dough on a cookie sheet and cook for 8-12 minutes.  These cookies have a great texture, and are not overly sweet.  If you want sweet cookies, make sure to add 1/4 to 1/2 more cup of sugar.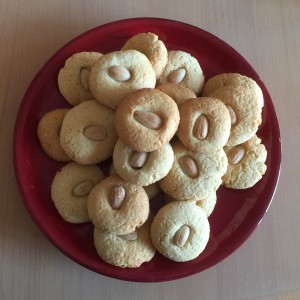 ***If you want to blanch the almonds for the tops of the cookies, boil some water, put the almonds in the boiling water for 60 seconds, and then drain.  Rinse with cold water, and blot dry.  You can then take the almonds and pinch them – the outer skin comes off very easily, but you might have trouble with the almonds shooting all over the room, since the skin tends to break suddenly.