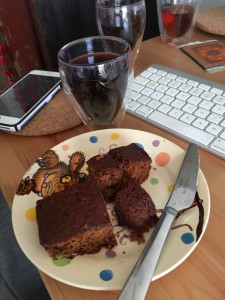 Yes, I mean that!  The best gingerbread I ever made, and I won't be making any other recipes for the rest of my life I bet.  This one is top of the charts.  It is dark, moist, fragrant, spicy but not too spicy, and not too sweet. Divine.
Here is the ingredient list:
1 cup water, boiled
1 and 1/2 teaspoons baking soda
8 tablespoons – 1 US stick, 115 grams (plus more for greasing the pan)
2/3 cup packed brown sugar, the darker the better
1 cup unsulfured molasses
1 tablespoon freshly ground ginger
2 large eggs
2 and 1/2 cups flour
2 teaspoons ground ginger
1 1/2 teaspoons ground cinnamon
1/2 teaspoon ground cloves
1/2 teaspoon ground or freshly grated nutmeg
1/2 teaspoon salt
2 teaspoons baking powder
Don't forget to turn on the oven – set to 350 degrees.  Line a 9 x 13 pan with parchment paper and butter it.  I like buttering it both under and over the paper.
This is one of those recipes where you basically mix all the dry and the wet in separate bowls.  BUT, first put the baking soda in the boiling water.  Mix it until it dissolves, then add the butter and wait for it to melt.  Add the dark brown sugar, molasses, and the grated ginger.  When it is truly cool, add the two large eggs and stir.   This completes the wet mix.
Then add all the dry together, stir, and sift into the finished wet mix.  There will be lumps because there is grated ginger in it.  Pour into the buttered 9 x 13 pan, and bake for 30-35 minutes until a toothpick comes out clean.
Want to taste the extra heavenly version?  Serve it with lightly softened sweetened whipped cream.