Do you like these?  I like Mika's version.  The flavor is deeper and the kind of thing that you always want more of.  It is different from what is on the box.  Basically she doubles the butter, browns it, and then adds salt.  Something that simple takes an ordinary thing and makes it special.  Why did I call them Cockaigne?  Because when I was a child we used the Joy of Cooking cookbook for most recipes.  When Irma Rombauer had a recipe that was the best version, she always added "Cockaigne" to the name.  Why?  At some point I found out the definition of Cockaigne and figured it out.  Here it is – and it certainly applies to these treats:
Cockaigne or Cockayne /kɒˈkeɪn/ is a land of plenty in medieval myth, an imaginary place of extreme luxury and ease where physical comforts and pleasures are always immediately at hand and where the harshness of medieval peasant life does not exist.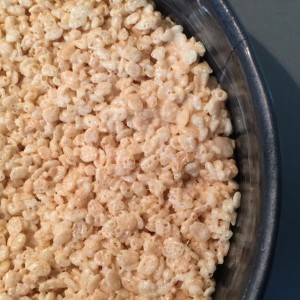 Double butter and some salt make these Crispy Treats better than ever…
Here are the instructions:
1 stick of butter, melted and browned, plus extra to coat the pan
1 10-ounce bag of marshmallows
Pinch of sea salt – up to 1/4 teaspoon, but we have done more I suspect
6 cups of Rice Krispie cereal
This can fit into an 8 or 9 inch square pan with 2 inch sides.
Butter the sides before you begin.
Melt the butter over low heat. It has several steps in its path to brown buttery goodness.
How to brown butter without making a mess or burning it.
First you melt it over low heat.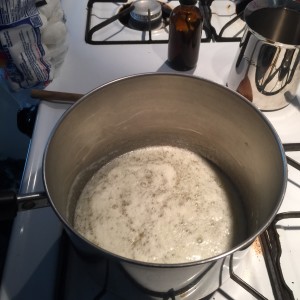 Then it foams a little.
Then the foam on the butter gets very thick and full.
Then you will see a brown patch form in the middle of the pan.  Keep swirling and stirring so it browns evenly and doesn't burn.
You should watch the pan like a hawk.  Dont leave it.  The amount of time between dreamy, fragrant, nutty flavored brown butter and a burnt mess might even be 15 seconds if your heat is on the high side.
Turn off the heat and add the marshmallows right away.   The heat that is left in the pan is usually enough to melt the marshmallows.  If your kitchen is very cold, you may have to turn on the heat to the lowest setting, but usually that is enough.  When the marshmallows have changed to goo and there are no blobs left, you are ready to add the cereal.
Add salt to the cereal before you mix it with the marshmallow fluff.  Quickly spread it into your pan.  It is sticky.  Of course, the spoons are wonderful to lick.
If you like, you can butter your hands and shape the stuff into snowmen or Easter rabbits or any other shape that appeals to you and your crowd.  This recipe is so fast you can always do it if you are in a hurry.  Maybe 5-10 minutes in all?