Pistachio sauce is a divinely nutty and fragrant topping for anything, but when you put it on noodles peeled from zucchini, squash, or other vegetables, it makes the dish dreamy.  You are actually eating a low carb lunch or dinner!  It is perfect for a spring dinner.
This recipe has two innovations –
+Noodles made from zucchini and yellow squash, a light alternative to pasta.
+Sauce made from ground pistachio nuts, with a nutty and fragrant flavor.
The first time I made long ribbon noodles from squash and carrots, I was so shocked.  With butter, a little cream, and parmesan cheese the veggies actually tasted like regular pasta.  I wasn't trying to eat a no-carb diet, just trying to cut down on the carbs, and it worked perfectly.
The first time I ate pistachio sauce I was at an organic restaurant called Pure and Whole at the Kerry Parkside Mall near the new Exhibition Center in Pudong, Shanghai.  If you ever have the chance to go there, you should.  The food is both innovative, and very delicious.  The matchstick pasta recipe there has brilliant pistachio sauce.  It was so good I went home and tried to recreate it the next day.  The trouble is, if you eat regular noodles, you are getting a lot of carbohydrates, so I tried creating a spring green pasta that had the pistachio sauce but not all the carbohydrates of regular wheat noodles.  This is the recipe that I go back to again and again.
1/4 cup shelled raw pistachios, (or 1/4 cup salted pistachios that have been rinsed in cold water and patted dry)
2 cloves garlic, minced
3 tablespoons finely chopped parsley, plus several sprigs for garnish
2 tablespoons of olive oil
1 tablespoon of butter
1 carrot, cut into "logs" the long way, and then cut into small, large pea-like cubes.
1 cup sweet green peas
salt and pepper to taste
2 zucchini plus 2 yellow squash, julienned into long strips.  Of course, you can use all yellow or all green zucchini if you don't have both, but the two colors together make the dish more pleasing.  If you use a spiral peeler you twist the squash in the peeler, like sharpening a pencil.
1.  Using a julienne peeler, peel 2 zucchini and 2 yellow squash. You can use a julienne peeler or spiral peeler for noodle-like noodles, or just use a regular peeler for very wide noodles.  I prefer using a julienne peeler or one of the new spiral peelers.
2.  Sprinkle with 1/4 tsp salt and 1/4 teaspoon sugar and set to drain in a strainer.
3.   Grind up the pistachios in a food processor and put in a bowl.
4.  Add the minced garlic, parsley and 2 tablespoons of olive oil, and mix.
5.  Rinse the zucchini noodles and shake well to get as much water off them as possible.
6.  Add the pistachio mix to a skillet and cook until the garlic is fragrant.   Then add the carrots and peas, a little water.  Cover the pan and cook until they are done.  Add water if you have to in order to keep it from sticking.  Take this mix out of the pan and put it in a bowl.  You don't have to wash this pan – add the butter and the zucchini noodles directly.
7.  Melt 1 tablespoon butter in the  skillet, add the noodles to the pan and cook until the noodles are not quite done, a few minutes.  Zucchini cooks very quickly.
8.  Put the zucchini noodles in bowls, add the sauce, and some parsley on top for garnish.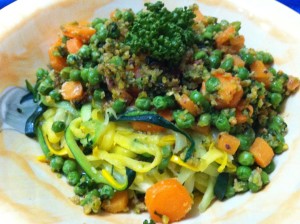 Yum!
Pinterest Party Spring Blog Hop
Want more posts that celebrate spring?
This post is part of the Pinterest Party Spring Blog Hop. (A bunny cake couldn't be more appropriate for a "hop" don't you think?) You can check out the other posts in this series below:
March 20th: New Black Plants for 2015 by Paula Atwell
March 21st: Straw Bale Gardening by Bev Owens
March 22nd: Easy Cast Iron Carrot Side Dish by Katy Mitchell
March 23rd: Spring Cleaning Tips for Crafters by Mamta Motiyani
March 24th: Artificial Spring Floral Arrangement by Chrisy Gallagher
March 25th:  Easy DIY Easter Bunny Cake by Kristen Carrasco
March 26th: Elyn MacInnis – Zucchini Spaghetti with Pistachio Sauce  (you are here!)
Still to come:
March 28th: Tracey Boyer – http://www.homemade-by-jade.com
March 29th: Amanda Brackney – http://www.simplesavingsavvy.net