This roll, which we have made at our home for years, is perfect for a Thanksgiving or Christmas meal. 
I am going to make the recipe short, because we need it right now!
Ingredients:  
2 packages dry yeast
1/4 cup warm water (95-100 degrees F)
7 cups all purpose flour, approximately
1 Tablespoon salt
3 cups warm water (95-100 degrees F)
The result:
2   Dozen rolls, 5 inches long, or
4   One pound loaves
The keys to this recipe follow below.
The master bakers on the SS France said that American flour has more gluten than French flour.  So you have to "baby" it.  Here is how to "baby" the dough:
1.  Don't pour boiling water into the flour as it will stiffen the dough.  Use water at a barely warm temperature (95-100 degrees F), as if you were warming a baby bottle.  
2.  Do not work the dough too much.  Don't be too aggressive with it, or it will fight back, be stubborn, and get tough.   The dough must be treated "with deference" and be allowed to "relax."  That means letting it rest for 15 minutes in-between steps.  
3.  If you have an old laundered piece of blanket, you can use that to cover the rolls when they rise.  A wool blanket will NOT stick to the rolls.  
4.  Let the dough rise three times in order for it to mature and develop its flavor.
Directions 
1.  First phase, making the dough
Dissolve the yeast in a small amount of warm water.  
Put 6 cups of the flour in a bowl, and make a mountain in the middle.  Make a small crater in the top where you pour the yeast/water mix.  Stir in a little flour, and let it sit until it is bubbly, about 10 minutes, depending on how warm the temperature is in your room.
Dissolve the salt in 3 cups of the barely warm water – use a thermometer if you have one – or test the temperature of a drop or two on your wrist to make sure it is lukewarm.  Pour it in very slowly, adding flour from the sides as you go.  You can beat the batter 25-30 times each time in order to thoroughly mix the flour into the soft batter.  After the dough can no longer be stiffed, you can use your hands to blend in more flour if needed – about 1 cup if necessary?
This dough should be SOFT, but not sticky if has a light sprinkling of flour on the outside.  It will be sticky because it doesn't have any oil in it.  If your dough seems too firm, work in 2 Tablespoons of water.
Knead the dough, and put a few sprinkles of flour on the dough if it sticks to the table.   Knead for about 8 minutes or so until it is a "soft, velvety ball."  I love that vision.
2.Second phase:
Wash and rinse the bowl, and coat with a little oil to keep the dough from sticking, 1-2 Tablespoons.
Cover the bowl tightly with plastic wrap.  Set aside in a warm place to double in bulk, which will take 1-2 hours depending on the warmth of the room.  You can also put it in an oven that has a pan of hot water in the bottom for warmth.  Lucky are those who have a gas oven with a pilot light!
3.  Third phase, punching, resting, turning into rolls
After it is doubled in volume, punch down the dough, and cover it again.  Let it rest 15 minutes. (Principle of treating it like a "baby.")
Turn the dough out and cut out 3 ounce pieces, which would be slightly larger than a large egg.  On the SS France they used a scale.  Rolls look nice when they are the same size, and they bake more consistently too.  You don't end up with one dried out burnt little one and one doughy huge one.
Form the dough into a round shape, rolling them between your hands or between your hands and the rolling board.
Place the roll-balls on a baking sheet with their seams down.  Cover with a wet blanket or towel and leave at room temperature for an hour.  Towards the end of the hour, preheat the oven to 440 F, (225 C).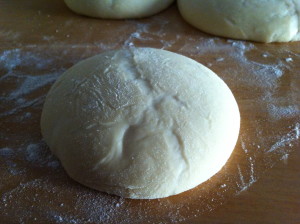 Another key for baking:
Before you put the pan of rolls in the oven, put a broiler pan or other container with about 1/2 cup of boiling water on the lower rack of the oven.  In China, where we only have one rack, I put it on the bottom of the oven itself between the two heating elements.  
Make a 1/2 inch deep cut 3/4 of the length of each roll, or across the roll, and put them in the oven.
Check how they are doing in 20 minutes.  
These are meant to be eaten right away, since they have no oil in the recipe.  But they do freeze really well, and that is a good option if you have extra.
Yum, yum, yum.