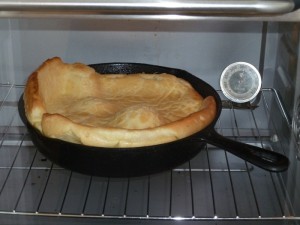 A cousin used to make this recipe all the time for her children.  Dad loves it.  It's a bit like Yorkshire Pudding. This is a popover like batter baked in the oven.
Butter 12  inch cast iron skillet, or 4 6 inch small skillets, small pie pans, cake pans okay too.
Beat together
3 eggs, room temp.
1/2 cup milk
Slowly add or sift into the liquids whisking until smooth.  Could use blender too.
1/2 cup flour
1/2 teaspoon salt
Add 2 tablespoons melted butter
Mix until the batter is completely smooth.
Pour the batter into the pan and bake for 15 minutes at 450 F.  Small pancakes will be done after 15 minutes.  If doing a big pancake, reduce the heat to 350 and bake another 10 minutes.
The traditional way to serve Dutch Babies is to sprinkle it with lemon juice and dust with 10x powdered sugar.
From:  The Breakfast Book